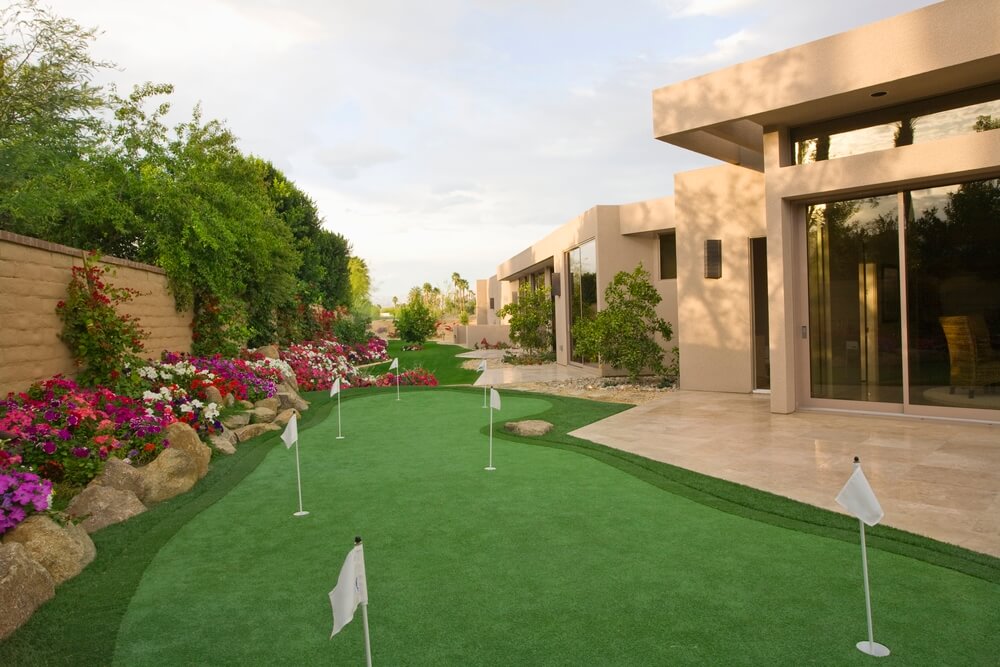 What Is the Best Artificial Grass for a Putting Green?
A personal putting green can be a beautiful thing. Whether located at a business or in a home, these places can help you practice to get that stroke just right. Before we jump into which ones work best, let's first learn a little more about artificial grass in general.
What Is Artificial Grass?
Artificial grass, or artificial turf, is a fake type of grass that is constructed from synthetic fibers. It is often used in a myriad of different sports, but also used in many commercial and residential applications because of its lower maintenance needs and high durability.

The material was created by David Chany in the 1960s, and gained prominence when it was installed in the Astrodome in Houston, Texas in 1966. Over the next couple decades, this fake alternative would quickly surpass natural grass for many applications because of how easy it is to maintain.
According to Exotic Greens, which installs backyard putting greens and synthetic grass in Dallas, artificial grass works remarkably well with golf balls in that it facilitates proper flexibility and rolling. It can also be used in locations without any windows.
What Are the Pros and Cons of Artificial Grass?
Because it's composed of completely synthetic material, artificial turf does not require any water or trimming like normal grass. It also doesn't need any sunlight, nor is capable of getting any diseases or molds.

On the other hand, artificial grass installation often requires a tremendous installation procedure, and thus can be cost prohibitive. There is also some concerns with its environmental impact in the form of plastic pollution and significant water run off. It can also cause abrasions and burns in some individuals.
Which Artificial Grass Is Best for Putting Greens?

All artificial grass functions differently, but there are a few factors you should keep in mind. For a putting green, you want an extremely low pile, as short blades work the best for moving a golf ball. You also might want fringe grass around the edges that is taller and straighter than texturized grass.
There are a few things you should look at when in the market for new artificial grass. Keep in mind the square footage total, weight, the type of backing it comes in (typically either rubber or polyurethane) and the infill. Infill refers to how well the grass blades stay upright and maintain their strength. Oftentimes infills are made of a mixture of small and large grain sand. Texturized turf doesn't necessarily need infill, as it has enough hold to keep the ball moving smoothly.
Can I Install It Myself?
When installing artificial grass you need to take a few steps. It involves preparation work in the form of weed and grass killer being applied to the area you want to work, removing soil, ensuring drainage, and the actual installation procedure.
After you have destroyed the vegetation in the area, you need to remove the first 3 to 4 inches of the topsoil to create the new base. Make sure to keep the area as flat as possible, and also install some sort of drainage system before proceeding.
To make the base, you need to install a waterproof border around the edge, add a weed barrier to stop any weeds from coming through your artificial grass, then add a base of crushed rock, gravel, and granite. From here, you will need to flatten it out and moisten it so it can settle properly.
Lay out the roll of grass for a couple hours so it can unfurl. Measure out the area that you need and cut it to the appropriate size. Before you fasten it down, use a carpet stretcher to help avoid any lumps. Remember to also take the time to seam them together.
If you think installing it yourself is a little too much for you to handle, you can always get a professional installer. Make sure that whichever installer you get knows how to make a proper putting green, so you can best ensure your vision bears fruit.
---
The best type of artificial grass for putting green should be extra low pile and texturized. If you decided to install it yourself, make sure you have all the necessary tools available. Using faux grass for your putting green can provide a low maintenance area to hone your skills.